Accommodation

Danubius Thermal and Conference Hotel Helia - VENUE

H-1133 Budapest, Kárpát u. 62-64., Hungary
Phone: +36 1 889-5800
Fax: + 36 1 889-5801
E-mail: helia@danubiusgroup.com
Internet: www.danubiushotels.com/helia
Single room: 80 EUR/night
Double room: 90 EUR/night
Room rates include all local taxes, buffet breakfast, usage of swimming pools, steam bath, sauna and fitness facilities. Beyond these, you may enjoy also other wellness services of the hotel at your own expenses.
Click here for more details of the venue hotel.
---
Hotel Ibis Budapest Váci Út ***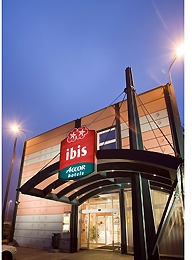 (appr. 10. min. walk from the venue)
H-1134 Budapest, Dózsa György út 65.
Phone: +36 1 329 0200
Fax: +36 1 340 8316
E-mail: H1685-RE@accor.com
Internet: www.ibis-vaciut.hu

Single room: 50 EUR/night
Double room: 59 EUR/night
Room rates include all local taxes and buffet breakfast.
The Ibis Budapest Váci Út hotel is located on the Pest side, a few minutes by metro from the centre and the theatre district. The Inner City business centre is 4 km away and the international airport 20 km. It has 322 air-conditioned rooms and 7 meeting rooms, a restaurant, a bar open 24/24 for snacks and pay parking. Its guests on a business trip have Wifi wireless broadband Internet access.
---
Address: H-1132 Budapest, Kresz Géza str. 1.
Website: Link
Location from the congress venue: 15 minutes by public transportation.
Single room: 43 EUR/night
Double room: 46 EUR/night
How to get the congress venue: From the hotel walk to the Western Railway Station, get an underground for two stops (Dózsa György út station) and walk to the Hotel Helia.

Fish-Gametes 2011 - view larger map
Bookings need to be guaranteed by a minimum payment of 2 nights deposit (or the whole payment in advance) either with credit card or bank transfer.

The deposit amount must be paid to the bank account of Diamond Congress Ltd. by 1 August 2011 and will be later deducted from your bill by the hotel. In case of credit card payment, you agree that Diamond Congress Ltd. is entitled to forward the credit card information to the hotel, but ONLY in case of no show. Hotel bookings that are not guaranteed by credit card or deposit payment by 1 August, will be cancelled automatically by Diamond Congress Ltd.

You are able to make your hotel booking through the system for the following period: 6-10 September, 2011. Furthermore if you want to come earlier or depart later, share your room with somebody, please contact Ms. Ildiko Kruppa at ildikokruppa@diamond-congress.hu
Deadlines
1st December, 2010
Second announcement

15th May, 2011
Submission of abstracts
30th June, 2011
Notification on acceptance of abstracts
15th July, 2011
Early registration fee payment
15th July, 2011
Cancellation without penalty
15th July, 2011
Hotel reservation (recommended date)
7-9th September, 2011
Date of the workshop