Accommodation
Hotels listed below are the official conference hotels recommended by the Organizers.
You can book a room at the special conference rates by using the online database.
VAT, city tax and the breakfast are included in all prices.
Booking in the online system is available between 15-20 May, if your staying period differs from this default period please contact us by e-mail.
All rooms are available on first come, first served basis.
A booking became final after paying the order. We are able to guarantee the rates enlisted below until 1 May.
Cancellation policy (hotel booking)
1 May is the deadline for penatly-free cancellation, too, after this date all hotel payments will be kept as "no-show" fee. At this date all non-paid hotel orders will be revisioned.
---
8200 Veszprém, József Attila utca 21., Hungary
Located 1 km from the centre of Veszprém, Két Lotti Villa features free WiFi, free private parking and en-suite rooms with cable TV. Breakfast is served every morning.

Két Lotti Villa offers a sauna and massage services for a surcharge. Board games are available for guests.

The closest restaurant can be reached within 10 minutes on foot. The zoo of Veszprém and the castle area are 2 km away. The Veszprém Train Station is 4.5 km away and Lake Balaton is 14 km from the house.
Prices:
Single room: 32 EUR / night
Double room: 46 EUR / night
For 3-bed rooms availability please contact us by e-mail.
---
8200 Veszprém, József Attila utca 25., Hungary
Éllő Guest-House is situated in one of the most beautiful part of Veszprém, in pleasant surroundings, some minutes from the town centre. The Guest-House has its own garden and closed illuminated parking facility in the inner yard. It has a special main key system.

18 modern rooms of high standard (bathroom, TV) are provided for the guests. Three of the rooms are unobstructed, in which handicapped guests also can be welcome. In the building there is a mini bar, too. Pets are welcome free of charge.
Prices:
Single room: 39 EUR / night
Double room: 44 EUR / night
For 3-bed rooms availability please contact us by e-mail.
---
8200 Veszprém, Nárcisz utca 2., Hungary
ProMedicum guest house is a cosy bed and breakfast accomodation in the city of Veszprém. We have 6 double rooms with bathroom. All the rooms are modern furnished, have airconditioning, colour TV set, satelite and minibar. There are free parking places in the garden. As our firm mainly deals with dental tourists, we can provide you with a peaceful environment. We put a special emphasis on the personal requests of our guests. Veszprém has a remarkable cultural and social life. It is rally worth visiting us.
Prices (no vacancy, fully booked):
Single room: 43 EUR / night
Double room: 54 EUR / night
---
H-8200 Veszprém, Toborzó Street 11-13.
The first downtown 4-star hotel of Veszprém is located in the heart of the city, only a one-minute walk from Óváros Square and the castle. When designing the house, we strove to preserve its original atmosphere but also, with the latest trend in mind, to equip the hotel with services expected in the 21st century.

As there aren't two guests who are the same, there aren't two rooms in our house that are the same either, so everyone can find a room that best suits their preferences in terms of its situation and arrangement.

Light, natural colours dominate our rooms, and hundreds of years old beams bring back the memory of the past in the Monument Wing. In our family rooms there is a children's play corner that awaits the smallest ones. All rooms are non-smoking.
Prices:
Single room: 80 EUR / night
Double room: 90 EUR / night
---
H-8200 Veszprém, Fenyves Street 15., Hungary
2012 is the year of opening a new Hotel in Veszprém: Hotel Historia Malomkert. It is not only new, but sorrounded by a picturesque landscape, the brook Séd, green areas and the castle from above it is a really unique Hotel as well. In a quiet corner of the city alongside a cycle path that rides to the Zoo, crossing the ancient Margit-ruin.

The interior design is also special: several rooms has been uniquely designed, after what the Hotel is also mentioned as a boutique hotel.

Since the building was a monument, it had to be renovated carefully: The rooms and the restaurant are connected by one area, water is running under the glass-inlaid floor that looks like a slowrunning brook. Several interesting built-in areas make the Hotel very much worth a visit.
Prices:
Single room: 80 EUR / night
Double room: 90 EUR / night
---
8200 Veszprém, Vár u 37., Hungary
Located in the historic Castle District of Veszprém, on the uppermost floor of the headquarters of the Veszprém Regional Centre of the Hungarian Academy of Sciences, the VEAB guesthouse is a 10-minute walk from the conference venue and 5 minutes from the city centre.

5 double rooms and 1 suite are available, all with bathroom, TV, air conditioning and wifi. All rooms have spectacular views on the valleys surrounding the Castle Hill. Free parking is available in the yard. Guests can enjoy the quiet, peaceful atmosphere in the heart of medieval Veszprém.
Prices (no vacancy, fully booked):
Double room with single occupancy: 26 EUR / night
Double room with double occupancy: 40 EUR / night
Suite (up to 4 persons): 60 EUR / night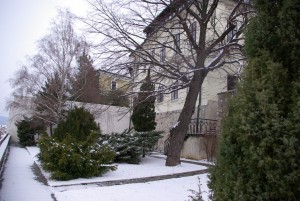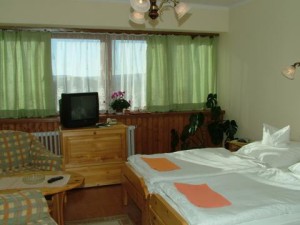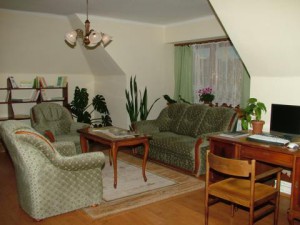 ---
MAP