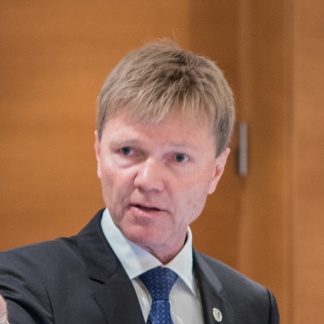 I would like to extend a warm welcome to everyone attending the ECU 2018 Convention in wonderful Budapest, with its rich history, cultural heritage, cosmopolitan environment and fantastic conference centre, where the convention will take place. 
The theme of this year´s academic programme is 'The Seven Ages of Man', which is a Shakespearian perspective on the stages of a life; from new-born to old. Accordingly, in an exciting and rewarding programme you will find so many high-quality presentations and workshops that the only problem will be which can you afford to miss. The socials, too, will be unmissable from the horse riding of the Magyars to the scenic beauty of the Danube.
This will be my last Convention as ECU President. I have now been the president of the ECU for nearly eight years, and I must admit it is with mixed feelings I leave the office. On one hand, I will feel a sense of relief not having to put in all the work, all the hours, read and answer all the mails that constantly fill the inbox. But on the other hand, I will deeply miss the friends I have made through the years and all the interesting people I have met when I have represented the ECU here in Europe and abroad. I believe the profession in Europe is now far better placed to hold its own in the health care world than when I took over. I sincerely hope that this convention will reveal a confidence and a commitment to be part of a new partnership to tackle the disabling prevalence of MSK conditions. Let us not forget, as we are enjoying ourselves, that the reason we joined this great profession was, and remains, the betterment of lives at all ages.
Whether you are a registrant, speaker or an exhibitor, the ECU thanks you for your attendance and support. It will be wonderful to be among colleagues in Europe to showcase and celebrate the chiropractic profession. Make the most out of it! I wish you a magnificent convention.
10 May 2018
Øystein Ogre
President, European Chiropractors´ Union